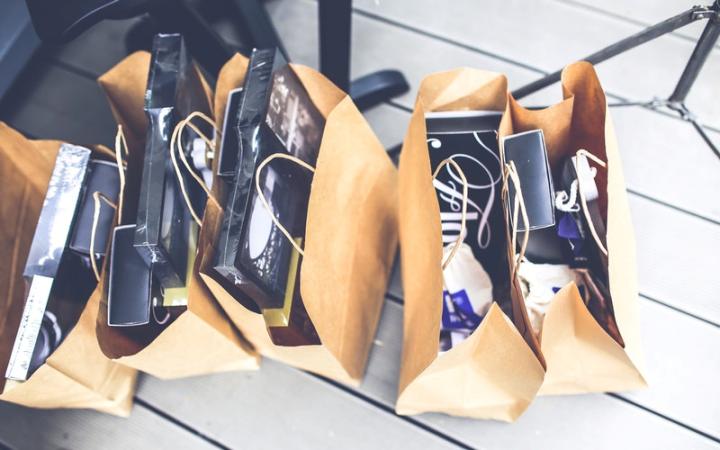 5 tech-based Christmas gifts to buy this Black Friday!
Christmas is still due in two months, but it's always good to keep an eye for cool stuff. As November offers the best sale of the year "Black Friday" one should be attentive to it. It offers several lots of creative products at the lowest rate. So here is the round one, and we are going to tell you about the five tech-based gifts that you can get for your loved ones this black Friday. So here are five useful solutions to your problems.
HiMirror Mini:
This smart mirror is in every girl to "get list". This totally makes sense for them. HiMirror Mini by Calcomp Big data Inc. is a smart mirror that sits on your dressing table and uses an integrated camera to examine your precious skin. It also helps in tracking the skin goals and how is the new beauty product affecting your skin.
HiMirror mini of only 13.3" x 9" with a table stand is the must thing to get this Black Friday. This quirky and smart mirror of 4.2 pounds is not quite different from the standard 10" makeup mirror every one of us has in our rooms. The thing that set it apart from conventional mirrors are as follow:
Integrated Camera (with magnifying capabilities)
Adjustable LED light
Integrated Amazon Alexa
Camera cover to maintain the privacy
Embedded 4-watt Speaker
Detailed skincare analysis
The only issue I can think of this perfect mirror is that of the 2X and 3X digital modification. It is not as sharp as we expect it to be (also as compared to the conventional mirror). Other than that, it is an amazing invention. And it must have to keep track of skin changes without consulting a doctor.
PhoneSoap 3 Sanitizer:
Remember when you checked the phone with your greasy hands and now even after scrubbing it with tissue you can take off that greasy feeling from the screen. And that is when you badly feel the need of PhoneSoap. Which can sanitize your phone like we sanitize our hands? Well someone understood this feeling and invented PhoneSoap. London researchers have found out that the average smartphone contains 10 times more bacteria than that of in the restroom. Yikes!
So search for the PhoneSoap3 Sanitizer. It is a large case (seems like a bed of smartphone), which can adjust almost every size of the phone. The case contains a UVC light bulb that is able to kill all the germs in 10 minutes. And can make your phone a hygienic piece to carry. The best thing is that while sanitizing you can charge your phone too through integrated USB cable. The light and heat is totally safe for the phone and will not cause any sort of damage to it.
You can also sanitize other household devices like keys, e-cards, etc. PhoneSoap is not a short-term investment. According to the makers, the UVC light bulb hasa life of 4000 hours and is able to clean 24000 cleanings before the bulblight burns itself out completely.
Logitech's MX Vertical Mouse:
This vertical mouse reminds me of that one time when 7-up describes itself as a "Un-Cola". Same as this is a mouse but is less stressing. The vertical structure of this Logitech's mouse can reduce the strain because of the ergonomics. Logitech claims that it will reduce the stress by 10 percent in comparison to the normal mouse. That is basically because it has a high-resolution sensor which reduces the Dots per inch (DPI) to 4000 and minimizes the physical movement. The mouse contains a button on the top which allows the user to switch between the lower and higher DPI settings.
NetgearOrbi Voice:
Netgear is best known for its Orbi line. Orbiline is a mesh networking product line and they recently launched Orbi Voice. Orbi Voice is a Wi-Fi satellite and smart speaker integrated with Amazon Alexa. The device is simple and elegant in design. My testing of the device proved that it has better sound quality than that of Apple'sHomePod. It is $50 cheaper than that of HomePod. But the only issue is that Orbi-voice is not a standalone product. It is a part of the Orbi family and is basically targeting Orbi customers. Or the customers who intend to install mesh networking solutions in their homes.
The Internet of things is taking over our lives and it all started with the internet's invention. Now we all are dependent on a reliable internet connection for most of our tasks. And talking of reliable internet connection Cox Communications has my faith. Visit https://www.localcabledeals.com/Cox/Customer-Service to avail amazing bundle deals. They provide exceptional customer service and high-quality connectivity.
Logitech's Wireless Charging stand:
The beautiful design of this product may fool you for Apple's product but it is by Logitech. The pad is developed for the inductive charging supported devices like iPhone 8 and iPhone X class models. You can charge the phone in both vertical and horizontal manner with this device. The charging pad's flaps on four sides make a great contact with the charging surface to charge the phone in a short time span.
I couldn't think of any best five devices for my loved ones, as they provide convenience are also handy as well. So, get them this Black Friday on great discounts and make your loved ones Christmas merrier.
Black Friday
Christmas gifts
discounts
tech-based gifts