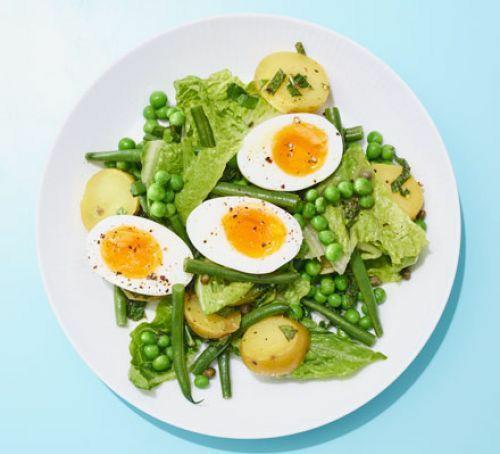 6 healthy and nutrient-rich summer recipes for lunch
Health is wealth. Keeping your mind and body healthy is extremely important to live an enjoyable life. Summer season, in particular, demands special attention to nutrition and diet. The high temperature and dry weather can adversely affect your mental and physical well-being. Summer is synonymous with vacations, which makes maintaining your health and fitness all the more challenging. Detoxing your body after all the high-calorific foods you had on your holiday is mandatory. To help you out we are introducing you to some super healthy yet utterly delicious dishes that can be included in your everyday meal plan.
Here are 6 healthy and nutrient-rich summer recipes for lunch.
1. Peas and Basil egg salad
Ingredients
150g sliced potatoes
160g trimmed French beans
160g peas
3 whole eggs
160 romaine lettuce torn into pieces
1 tablespoon olive oil
2 teaspoons cider vinegar
½ teaspoon mustard powder
2 tablespoons finely chopped mint
3 tablespoons finely cut basil
1 finely grated garlic clove
1 tablespoon capers
Preparation method
Place water to boil, add the potatoes to the pan and cook on a medium flame for 5 minutes. Add the beans and cook for 5 more minutes. Lastly, add the peas and cook for another 2 minutes. In another pan boil the eggs for around 8 minutes. Let them cool and shell and halve.
Mix the dressing ingredients in a large bowl. Crush the herbs and capers with the back of a spoon and add them to the mixture along with a dash of pepper.
Combine the boiled veggies and dressing. Finally, add the lettuce and toss everything together. Serve on a plate with a topping of eggs and grind over some more pepper for added flavor. Munch away!
2. Broccoli and buttermilk chicken
Ingredients
3 chicken legs
2 cups of buttermilk or yogurt
1 tablespoon cumin powder
4 tablespoons extra virgin olive oil
6 tablespoons vegetable oil
8 garlic cloves
1 tablespoon maple syrup
2 red chilies
100g Broccoli
50g almond chunks
Salt and pepper
Method of preparation
In a large bowl mix buttermilk, cumin, oil, garlic, maple syrup, and salt and pepper, for the marinade.
Dip the chicken in the marinade and refrigerate for 2 hours.
Place the chicken on a baking tray, drizzle some olive oil and bake for 40 minutes at 20 degree Celsius.
Once done, add some more olive oil and brush maple syrup and bake for 10 more minutes.
For the dressing, add oil, garlic, red chilies, salt, and pepper and fry the mixture.
Add 1 liter of water and broccoli florets to a pan and boil with a drizzle of salt and pepper.
Remove excess oil from the chicken using kitchen tissue or a towel.
Finally, grill the broccoli on a grill pan for around 2 minutes and serve the chicken and broccoli. Have the steak with Totts Champagne.
3. Tuna and chickpea sandwich
Ingredients
1/3 cup low-fat Greek yogurt
½ cup low-fat mayonnaise
2 tablespoons fresh lemon juice
¼ cup chopped parsley
1 teaspoon fresh rosemary and thyme leaves
2 cans well drained white tuna
1 can be drained and rinsed chickpeas
2 whole wheat pita pocket bread
2 sliced tomatoes
2 cups spinach
1/3 cup chopped red onion
¾ cup chopped celery
Preparation method
In a bowl whisk together mayonnaise, yogurt, lemon juice, parsley, thyme, and rosemary.
To another bowl add tuna, chickpeas, celery, and red onion. Pour the yogurt mixture and toss together for an even coating.
Season with salt and pepper.
Slice the pita pockets in half and layer the mixture in the center. Savor away.
4. Crispy veggie pizza
Ingredients
1 tablespoon vinegar
1 tablespoon canola oil
½ tablespoon salt
1/4 tablespoon black pepper
1 cup zucchini strips
1 thin whole wheat crust
¼ cup basil pesto
2 sliced tomatoes
2 ½ ounces feta cheese
4 cups baby spring mix
½ cup sliced red onion
¼ cup chopped basil
Preparation method
Stir zucchini, vinegar, salt and pepper in a bowl.
Spread pesto over the pizza crust and top with tomatoes, onions, and cheese. Bake at 400 degrees Fahrenheit for 6 minutes until crispy.
Add basil and spring mix to zucchini mixture. Arrange the salad carefully over the pizza. Sprinkle salt, cut the pizza into 8 slices and serve when hot.
5. Farro salad lunch box

Source
Ingredients:
2 cups Farro, green beans and kale
1 hard-boiled large egg cut into half and wrapped with two dill sprigs and ¼ oz prosciutto
1 small orange
Preparation method
Combine all the ingredients and serve on a plate or lunch container with some yummy raspberry slushies that'll complement your lunch.
6. Cashew carrot toasties
Ingredients
1 large carrot
1 tablespoon chopped parsley
½ teaspoon extra virgin olive oil
½ teaspoon apple cider vinegar
1 ½ tablespoons cashew butter
1 slice whole-grain toasted bread
1 cooked and crumbled bacon slice
Salt for taste
Preparation method
Shave the carrot with a peeler to get 1/3 cup of ribbons. Toss carrot ribbons, parsley, oil, and vinegar in a bowl and let it sit for 5 minutes. Spread cashew butter over the toast. Top with bacon and carrot mixture. Sprinkle salt and pepper and bite right into it.
Hope these quick and healthy recipes bring you all the joy in the world. Indulge in them guilt-free as they are low in calories and high in nutrition.
6 healthy and nutrient-rich summer recipes for lunch
Broccoli and buttermilk chicken
Cashew carrot toasties
Crispy veggie pizza
Farro salad lunch box
Peas and Basil egg salad
rich summer recipes for lunch
Tuna and chickpea sandwich