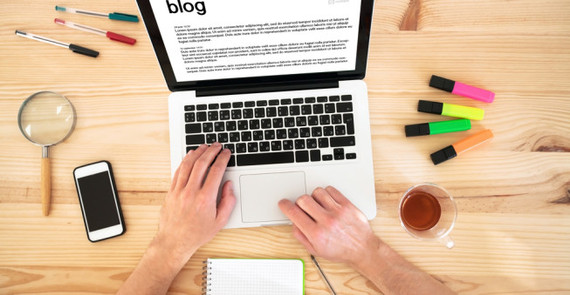 5 tips for writing an engaging blog post
Nothing is an alternative for writing skills when it comes to creating blog posts that captivate the reader's attention. Writing content that is easy for the readers to read and also adds value to them is what makes it engaging. 
Keeping your audience bound to your words for entire blog posts can be challenging. Let's just take an example. Out of all the blog posts you have ended up on, how many did you read till the end? Isn't the first ritual of reading a blog measuring its length? Internet, being an ocean of content, has shortened our attention spans.
Patience is an omitted word in the dictionary of an average reader. So, write your article such that a person keen to leave the blog as soon as it sets them off doesn't find a reason to. This starts with having a captivating and relevant title and content.
Let's get started with the 5 tips:
Hook from the beginning
An interesting title leads to a higher clicking possibility for the audience. If your title is catchy and captures the attention of the readers instantly, your blog post is a hit.
After the headline comes to the lead paragraph, which is equally important as the former. If your first paragraph is interesting, the reader will likely read the entire piece. You can do that by asking a question right at the beginning.
Write for your audience
Remember, you are writing blogs for a layman and not grammar Nazis or intellectuals so the writing must be easy to understand and helpful. 
It is important to understand your target audience, if it is targeting young college students, make your content for them and if it is for class 5 students, make it a bit easier to understand.
Choose your niche (category)
It is essential to know what you are expert at. For example, if you are an engineer writing technical blogs, you can't be an expert to write food blogs. 
Once you find your niche, try to cover all trending topics of that niche and help your audience with as much use to them.
Add links to your blogs with credits
Now, you must have seen news reports giving credits to a certain institute or person for their quote or information. Similarly, if your blog is linked with several other websites, Google algorithm picks it up whenever someone searches for the topic.
Try to keep your statements out in the audience with proof, like statistics from a certain report or a fact given by an expert through a proven experiment.
Be original
It is important to stay original at all times. Copying someone's content not only makes your content quality low and people can figure it out if they are a regular viewer.
There are a lot of blogs under the same niche talking the same things, it is also called herd content. Hence, good research and an original approach to an existing trending topic will make a high – quality piece of writing.
There you go five useful tips to make your content engaging and interesting. Another important factor among all these is good SEO (Search Engine Optimization). In this select, some most searched keywords of your trending topic and insert it in the first few paragraphs of articles. This will help you rank in search and bring organic traffic to your website.  
A lot of patience and hard work is required to make your blog/website a hit as there are billions of websites out there. Try to be original, share as much as possible and keep it interesting and simple!
Author Bio: Shriya Garg is the founder of ContentNinja – an inbound marketing firm and Hubspot partner in India, who always happens to go back to her roots as a finance professional. Being good with numbers, she loves educating her team members on personal finance, investment, and other things they don't teach at school.